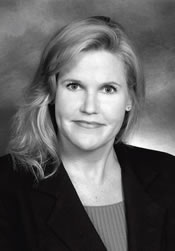 The Leonard Group, LLP
The Watergate
700 New Hampshire Avenue, NW
Suite 409
Washington, DC 20037
Cell: (202) 672-5579
Fax: (202) 337-1240
kleonard@leonardgroup.net
Kate Leonard is the President of The Leonard Group, a Woman-Owned Small Business (WOSB). For twenty plus years, she has been assisting clients with their Federal and State Government Relations' interests by coupling her Capitol Hill experience as a former staffer to US Senator Robert W. Kasten (WI) with her decades of lobbying and government contract positioning work to bring tangible results to clients' legislative and business development goals.
Over the past two decades, Ms. Leonard has had the privilege of representing client interests before the US Congress and Executive Agencies in nearly every area of their jurisdiction through her solid relations with Members of Congress and their Staff of the Committees from Appropriations to Budget, Homeland Security to Armed Services, Small Business to Veteran Affairs, Commerce to Banking and Finance, Science and Energy to Transportation, Health and Education to Labor, Foreign Relations to Judiciary.
In addition, Ms. Leonard has learned and effectively navigated the Rules and Procedures of both the House and Senate as well as developed strong relations with the Leadership and their Staff of both Chambers who implement these Rules to garner critical results for clients.
Ms. Leonard has taken the Federal model described above and applied it to many State Legislatures and Agencies throughout the nation with similarly important outcomes.
Further, Ms. Leonard has utilized the contacts she has developed over these twenty years at the Federal and State levels to offer clients effective strategic business development positioning services to assist them with targeting and penetrating key points of entry into the Federal and State government contracts arena.
Ms. Leonard has expanded her key relationships described above through her active participation in many bi-partisan events for incumbents and challengers in the US Senate, House of Representatives, State Legislatures as well as her role as a Delegate to two Presidential Conventions.
Examples of her efforts on behalf of firm clients include:
Successfully garnered key Members of Congress to fund clients' projects through the annual appropriations process.



Successfully engaged key Members of Congress to introduce and co-sponsor critical legislation on behalf of clients and Associations.



Member of team that successfully obtained the largest award in firm history for client from the German Government through our specific work with US Senators. Ms. Leonard personally contributed by drafting and submission of letters and in-person with then Secretary of State, Madeleine Albright, Key Senators and their Staff.



Successfully planned and implemented aggressive strategies to raise clients' profiles with key Members of Congress to support and sustain their positions.



Founded and built effective grassroots, strategic alliance Associations to support and bolster clients' positions. Directed the successful day-to-day legislative efforts and strategies of these Associations



Successfully engaged key Members of Congress to testify on behalf of clients and Associations at critical Congressional Committee and Sub-committee hearings and deliver statements on the floor of the House and Senate.